Most people finish their Chronulator by installing it into an attractive picture frame. But some particularly creative and crafty people have gone well beyond. Check out this amazing work!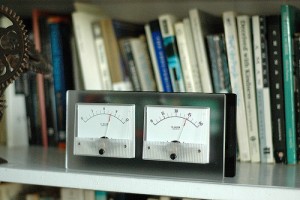 Frosted Plexiglass
About his beautiful, Plexiglass-backed Chronulator, Adam writes:
"The front panel is 3/16″ thick P-95 Plexiglass which is matte/frosted on one side. In addition to diffusing the light the matte finish doesn't show fingerprints. I have a drill press but it's disassembled and stored so I had the panels cut and drilled at Tap Plastics. When I took my SketchUp drawings in they admired them and then said they don't do metric. (I don't know if that's a Tap corporate policy or specific to that store.) It was easy enough to modify the basic dimensions to inches but the 15mm spacing for the meters and the circuit board didn't fare well given their 1/16″ tolerances. In the end there was some time spent with a rat tail file. Fortunately the washers cover the evidence."
See more of Adam's Chronulator on Flickr.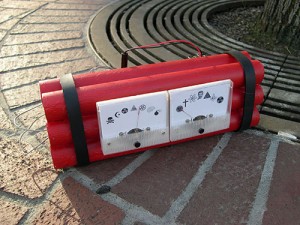 Bombulator!
Stand back! This baby's about to blow! Bzztbomb made his Bombulator out of wood dowels and used hot glue to keep everything together. Red spray paint and black rubber bands complete the theme.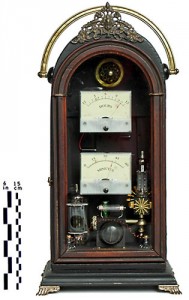 Klockwerks Chronulator
Roger Wood, a renowned clockmaker, built this spectacular Chronulator. You can see more of his work at www.klockwerks.com.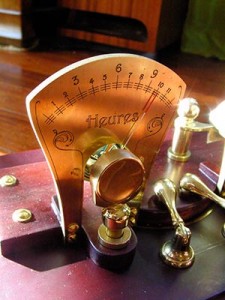 Emmanuel's Chronulator
Emmanuel constructed his Chronulator from brass drawer handles and curtain rod ends, a tea box, and some amaranthe wood. He deconstructed the meters and rebuilt them against custom-etched brass faces. Spectacular!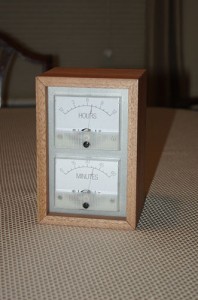 Wooden Chronulator
Bill chose wood to enclose his Chronulator. Anybody know what kind of wood this is?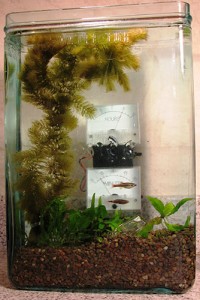 Something Fishy
David writes:
"These two one-inch long White Cloud Moutain fish (Tanichthys albonubes) live rent-free in this old Exide battery jar, but now at least they won't be constantly bothering me for the time."
Want to See More?
Take a look at the Chronulator photos posted on Flickr!
Want to Build Your Own?
Head back to the Chronulator page and learn how to build your own Chronulator.