PortaPack for HackRF One is Imminent!
Update on 2015/07/23: The PortaPack H1 is now available in the ShareBrained store.
With the Kickstarter HackRF Ones shipping out soon, I've made some progress on the PortaPack add-on. I have a revised prototype, adapted to attach to the HackRF One.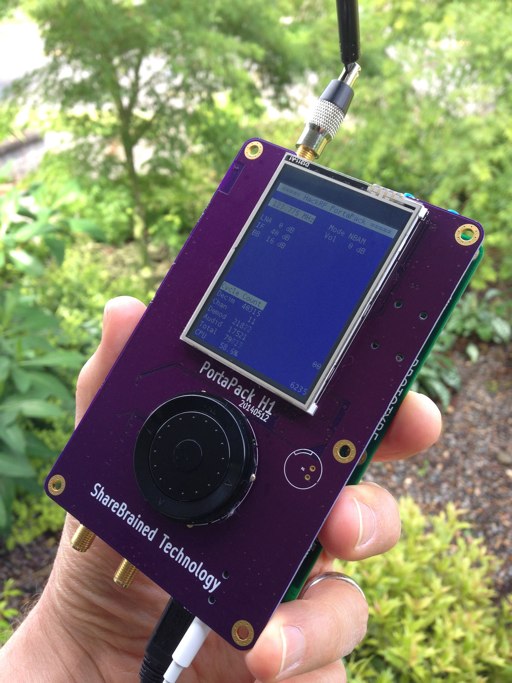 I've added a few features to the Jawbreaker prototype I showed last year. Here's what new the PortaPack has to offer:
240 x 320 RGB LCD. High update rate permits display of spectrum, time-domain data, and other real-time radio parameters.
9-way navigation control. Outer ring is four-way directional control (moving a cursor/selection). Middle ring is a rotating ring quadrature encoder. Center is a select button.
Touch screen. For direct entry of information or scrolling through data.
Audio I/O via a 3.5mm mobile phone jack. It accepts iPhone-style headphone/microphone combinations. Sound quality is good due to using a real music player style audio codec. Headphone power is considerable (a.k.a. "painful").
Micro SD card slot for storing or playing back data.
Lithium coin battery to power HackRF's internal real-time clock (RTC). Great for logging applications.
Like the HackRF, the PortaPack is more of an open-source development platform than a finished radio tool. But I'm confident the HackRF community will eagerly embrace an entirely portable SDR and develop some awesome applications for the hardware. I will do my part to provide enough code to make the PortaPack do something interesting. Right now, I have basic spectrum analysis and AM/FM/WBFM demodulation working.
I'm still working through pricing the cost of acquiring all the parts and getting PCBs and assembly done. My target retail price is less than $100 US.